This weekend = Culinary Bonanza!
I had such a great food weekend, I'm not sure where to start. I guess I'll go with the tried and true chronological order, since it builds to a great finish.
I went camping on the Boston Harbor Islands this weekend, which was a first for me. I highly recommend it. A subway ride, a ferry ride, and you've gone from to city to the great outdoors. There are no campfires allowed, however (though beach fires are okay), so we planned an old-fashioned picnic. I made fried organic chicken, following some tips from a discussion on chowhound, and it was pretty fine, although better fresh from the pan in the morning than out of the Tupperware later in the day. From my farm share, I had green beans, simply steamed, then dressed with a little olive oil and chopped sun-dried tomatoes. I used yellow squash in a tart that I thought came out very well. The shell was a ½ wheat pastry crust I happened to have in the freezer. I spread it with goat cheese, then sprinkled the cheese with shredded basil, then arranged half-moons of lightly sautéed yellow squash over top. Half and half was poured over the top, more basil sprinkled on, and then the whole thing baked off. I think this would work well with feta, too. This was one case where I believe the flavor of whole wheat in the crust was an advantage; its earthiness set off the pungency of the goat cheese and the mild flavor of the squash.
I also brought blueberry cobbler, made from a mix of local cultivated blueberries from the Mission Hill farmers' market and some frozen Wyman's wild blueberries from Maine. Blueberries freeze marvelously, and Wyman's product comes from my favorite part of Maine, the beautiful and unspoiled Northern coast. The tiny wild blueberries have so much more flavor than their cultivated counterparts that I always mix in some when baking with fresh berries. The cobbler was good, but a warning to all: do not rely on the plastic lids that come with the foil pans from the supermarket to keep a cobbler in one piece while being hauled through the T, onto a series of boats, and up a trail to a campsite. Fortunately, cobbler is still edible when smushed. Tasty, too.
********************************************
I returned from the camping trip on Sunday. Monday I took the day off from work to go with my friend to pick up our half cow. We bought a quarter cow from River Rock Farm back in January, and our supplies were depleted. Since everyone involved in the first beef-buy has essentially been ruined for regular beef (River Rock Farm beef is grass-fed, dense and meaty and flavorful), we decided to go for broke this time with a half cow. Split five ways, that's over 50 pounds of fantastic meat per person. My freezer is stuffed to the brim with meat. It looks like this:
Freezer of joy.

As an aside, the abattoir was a surprise. The farmer delivered our first purchase, but asked that we pick up this order from the butcher/slaughterhouse. I don't know what I was expecting - a big ugly building with a stench of death, I guess. Certainly I wasn't expecting this:
An elegant little slaughterhouse...

Really.

Apparently, there's more money to be made in the small-slaughterhouse biz than one would expect.
**********************************
My friend and I got back to her house a bit later than expected, and our other friends who were coming to pick up their share of the cow were late as well. This turned out to be great for me, because my friend and her husband were planning to attend the Farmers' Market Tasting Dinner at Bistro 5 in Medford, and since they were running too late to drive me home, they invited me to join them. I have lovely, generous friends with great taste in restaurants, which I greatly appreciate, since the only restaurant I frequent is Bistro Moi.
Here's the menu: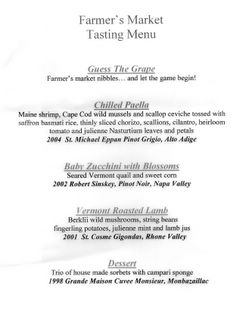 Bistro 5 has a farmers' market tasting menu available every night in the summer. Go.

(Sorry the scan isn't very clear. This is the best I could do.)
The produce for the meal came from the farmers' market in Central Square that afternoon, and the whole meal was fresh, organic and local. The quail came from a supplier in Vermont, who sells fresh, not frozen, game birds. The wines were all either completely organic (no sulfur) or from organic grapes.
Now, Vittorio, the chef at Bistro 5, is basically a genius. This was one of the best meals of my life. A true chef can transform even mediocre ingredients into something complex and interesting, but when the best materials are in the hands of a master, every bite is nuanced, complex, yet at the same time strong and clear in flavor. That may sound like restaurant-reviewer speak, but describing truly incredible food is difficult. I can't explain why Vittorio's arugula pesto is better than mine, but it is better, much better: there is more flavor, more arugula bite, more tang of cheese. Everything is just bigger.
(Did I mention that the lamb was to die for? And that nasturium leaves have a spicy flavor like horseradish?)
As nice as it is to enjoy the work of someone who relly knows his way around a kitchen, you don't need to be a genius to make good food at this time of year. My lunch today, in its humble Tupperware, is still pretty fine. Ingredients: cucumbers, tomatoes, basil, salt.
Simple is good.